This review is going to be a little weird as it will join two products from the same company due to the fact that if I am honest both of their product lines that was tested was a little bit of letdown in different respects.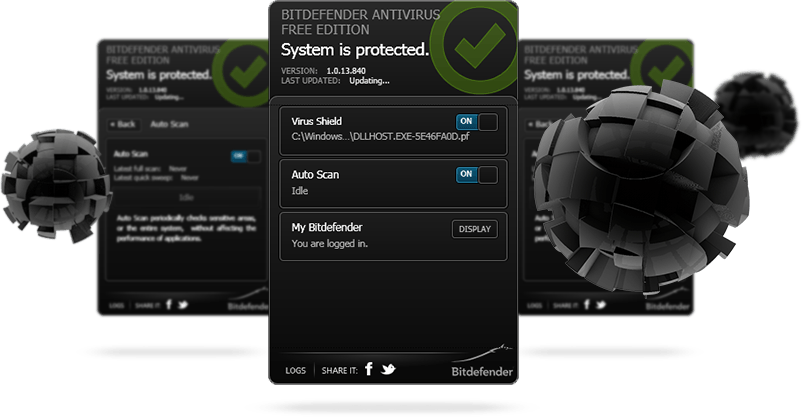 Bitdefender Free was the first product that was tried because of 360 Total Security taking up such a huge amount of memory on the system.  Bitdefender had always seemly scored quite high in the detection rates for third-party test and for that reason Bitdefender free was loaded onto the system to see how it performed.  The positives for this product was it was extremely lightweight and it was a breath of fresh air compared to 360's previous offering, maxing out at about 50 megs of RAM when scanning and being as low as 10 meg when not.  The other thing that really caught your eye was how simple it was, it took all the features out and just allowed you to have the bog standard anti-malware product that is needed now a days, but the nail in the coffin was when Farming Simulator was loaded.  While loading Farming Simulator 2015 was loaded it crashed Bitdefender Free and although it wasn't classifying Farming Simulator as a virus or doing this with any other program.  If it could be crashed for me it was time to move on because if something like a simple game could crash your security no matter how could the definitions and detection is if it's not run it can't catch anything.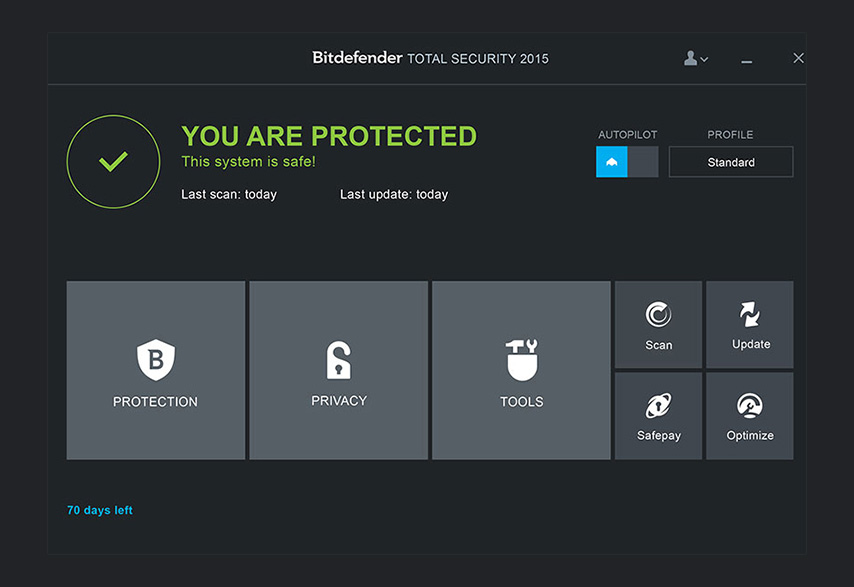 After having such a positive experience with the free version except for the problem of the security crashing I wondered whether their paid for product suffered the same fate?  The truth is it didn't it quite happily carried on working while playing Farming Simulator and even moved into its gaming profile while Farming Simulator ran.  This a feature that was quite inviting, Bitdefender in AutoPilot mode will choose the right profile based on what you are doing, which means that it will disable things in order to get the best performance out of your computer or making sure you won't be nagged.  Great you say?  Well not so much because if you're a gamer you'll no doubt have Steam running of which will make the Autopilot put you in the Gaming Profile which even disables Windows Updates, which brings the problem that Steam typically starts on startup so this could mean that your PC and Security wouldn't get the much-needed updates because your machine will be stuck in this mode 24/7.  I did contact Bitdefender support about this issue and their response was to disable Autopilot and choose the profiles manually, while this is a solution to the problem how many users are going to be wanting to change the profile themselves every time they change the use of their machines?  I'd guess not many.
Overall Bitdefender free had good detection and extremely lightweight but in good conscious can't recommend it because of the fact it crashed while running a game.  The fully fledged Bitdefender Internet Security product I would recommend to non-gamers as they are unlikely to come across the issue with Steam, that said though the full version seems to sit at 200 megs of RAM so it might not be for everyone.  Bitdefender gets a 6/10 because it has some great features and good detection but has some gaping holes and although the support did give a solution to the problem however for me they should've passed it onto the development team to iron out the problems with its software to make it a better product.